Itzamna

—  Continent  —
The Continent of Itzamna

The western hemisphere of New Gaea with Itzamna highlighted in green.
Countries
5 Countries
Dependencies
5 Dependencies
Languages
List of languages
Timezones
UGT−11, UGT−10, UGT−9,
UGT−8, UGT−7, UGT−6,
UGT−5, UGT−4
Denonym
Itzamnan
Area
33,507,204 km²
(33,521,687 mi²)
Pop. Density
21.4 per km²
(56.0 per mi²)
Population
424,119,721
Largest Cities
List of largest cities in Itzamna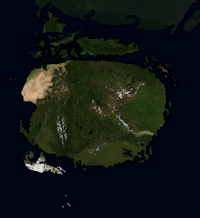 Ad blocker interference detected!
Wikia is a free-to-use site that makes money from advertising. We have a modified experience for viewers using ad blockers

Wikia is not accessible if you've made further modifications. Remove the custom ad blocker rule(s) and the page will load as expected.