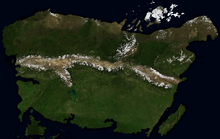 The following is a list of sovereign states and dependent territories in Tikal, including their capitals, official languages, currencies, population, area, and GDP per capita at PPP.
Tikal is located in the Western Hemisphere and is bordered on the west by the Pastian Ocean, on the north by the Glacian Ocean, on the east by the Atian Ocean, and on the south by the Ceridwen Sea and Itzamna. Tikal is mostly uninhabited at the moment and many statistics are unavailable.
Sovereign states and other territories
Edit
     Overseas department or dependency
Demographics and geography
Edit
     Overseas department or dependency
Economic statistics
Edit
     Overseas department or dependency
↑

This is the GDP nominal per capita for Escambia. PPP data is not released.
Ad blocker interference detected!
Wikia is a free-to-use site that makes money from advertising. We have a modified experience for viewers using ad blockers

Wikia is not accessible if you've made further modifications. Remove the custom ad blocker rule(s) and the page will load as expected.